About us
Welcome to Impala Bicycles!
Our interest in cycling began 27 years ago through our son and brother, Mark Walters, whose dedication to the sport rewarded him with 5 Canadian Championships and an 11 year career as a professional road cyclist, his passion was adopted by his parents and sister.
We purchased Impala Bicycles over 12 years ago, moved and expanded it in it's present location with over 600 bikes in stock and a huge selection of accessories, shoes and clothing.
More importantly we pride ourselves in the service we give our customers, from bike fits by our general manager Andrew, to helping our customers choose the right product for their needs.
Our passion for the sport remains as strong as ever.
Glyn, Liesel and Andrew.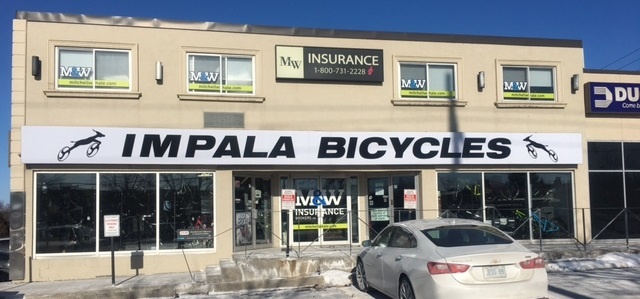 Store Hours

Monday

11am-6pm

Tuesday 11am-6pm

Wednesday 11am-6pm

Thursday 11am-6pm

Friday 11am-6pm

Saturday 10am - 5pm

Sunday - 11am - 4pm

 

Holiday Hours

Dec 24th  11am-2pm

Dec 24th  Closed

Dec 31st  Closed

 

PLEASE NOTE WE WILL BE CLOSED SUNDAYS AND MONDAYS FOR THE MONTHS OF JANUARY AND FEBRUARY

 

SERVICE ENTRANCE AND PARKING LOCATED AT THE REAR OF OUR BUILDING

 

Impala Bicycles

1818 Dundas St E 

Whitby, Ontario, L1N 2L4

(905)434-4530